Muskövarvet
Muskövarvet AB (MVAB) is a company that was founded in the beginning of the summer 2005 by the three former defense employees. Since 2017-12-29 Saab AB is the owner of Muskövarvet AB.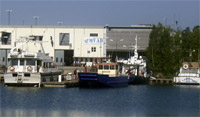 Muskövarvet is located on Muskö, a 60 minute (60 km) drive from downtown Stockholm.
They specialize in maintenance and repair of vessels up to 25 meters in length.
The shipyard operates a boat lift and workshops for all areas, from heavy plate work to service and repair of engines, electrical equipment and electronics.