Marine Ambulance for International Operations
Docksta, Sweden 11th October 2005: Dockstavarvet has delivered a seagoing ambulance to the Royal Swedish Navy, based on the wellknown Combat Boat 90 H.
The troop transport compartment is converted to a medical treatment accommodation and the passenger seats have been replaced with 4 stretchers and extensive equipment including a fixed oxygen system. The interior is designed with outmost care for easy cleaning and maintaining an antiseptic environment.
The boat can carry 4 patients lying on stretchers and is operated by a crew of 4 and 3 medical orderlies. The patients are loaded and unloaded through the aft hatch or via the bow ramp enabling access to unprepared beaches. The bow ramp also provides a useful platform when retrieving objects from the water.
Presently the boat is undergoing tests and evaluation with the Amphibious Forces.
In total 240 units CB 90 H have been delivered since 1989, whereof 147 units to the Royal Swedish Navy. The latest version HS is fitted for international operation comprising armor protection, collective NBC protection, air conditioning, genset, WC and fresh water system.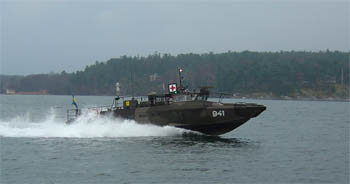 Marine Ambulance undergoes trials within the Royal Swedish Navy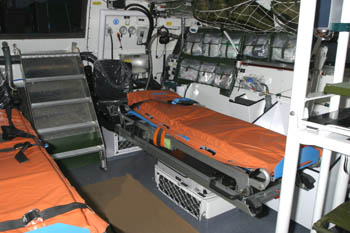 Interior view with stretchers, aft exit in the middle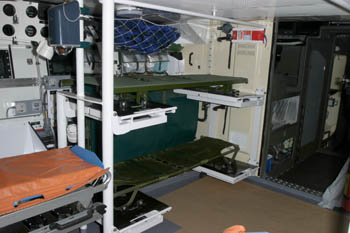 Interior view with stretchers with exit to wheelhouse and bowramp to the right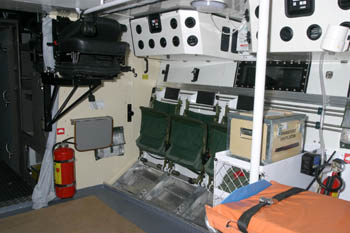 Interior view with stretcher and forward exit to the left