High Speed Patrol Boats for the Polish Border Guard
Gdansk, Poland, May 4th, 2006: Dockstavarvet and the Polish Border Guard has signed a contract comprising the delivery of four units IC 16 M High Speed Patrol Boats, including documentation, spares and crew training. The boats will form a vital part of EU's Integrated Border Management Program in the Baltic Sea. For Dockstavarvet this is the largest order for this new type of craft introduced back in 2002.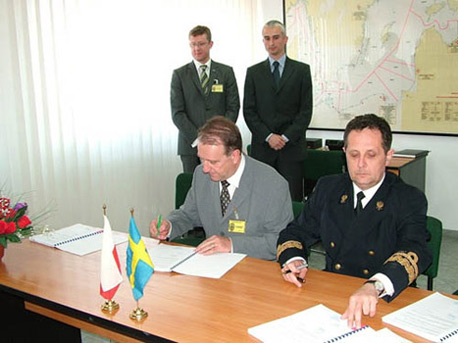 The contract was signed by Dockstavarvet MD, Torbjörn Larsson (left) and Kontradm. Konrad Wisniowski from the Polish Border Guard.
The boats will be partially constructed by Wisla Aluminium in Gdansk under the supervision of Polish Register of Shipping. The hulls will be built here and then shipped to Sweden for final fitting out.
The IC 16 M is in all aluminium construction based on the well-known CB 90 H concept, now adapted for patrol operations and hull design according to Lloyd's Register's Special Service Craft Rules. The aft positioned wheelhouse provides good crew comfort at high speed in open seas and excellent visibility around the horizon despite the low profile. The accommodation is arranged for a crew of 4 with one forward 4-berth cabin, galley, dinette, head and additional seating for 8 passengers. The Polish version is equipped for border control as well as search and rescue missions.
Power is provided by two SCANIA D16 diesel engines giving a total output of 1600hp and a sprint speed of 42 knots. The engines are driving two ROLLS-ROYCE FF410 waterjet units through ZF550 reduction gears and flexible shaft couplings. An integrated navigation system NavNet Vx2 is provided by FURUNO. The technical systems installed in the IC 16 M are based on proven CB 90 H solutions developed for and together with the Swedish Navy. The CB 90 H system has an accumulated operating time worldwide exceeding 750,000 hours providing a well proven design.