ALUPILOT 16.5 M a New Design from DOCKSTAVARVET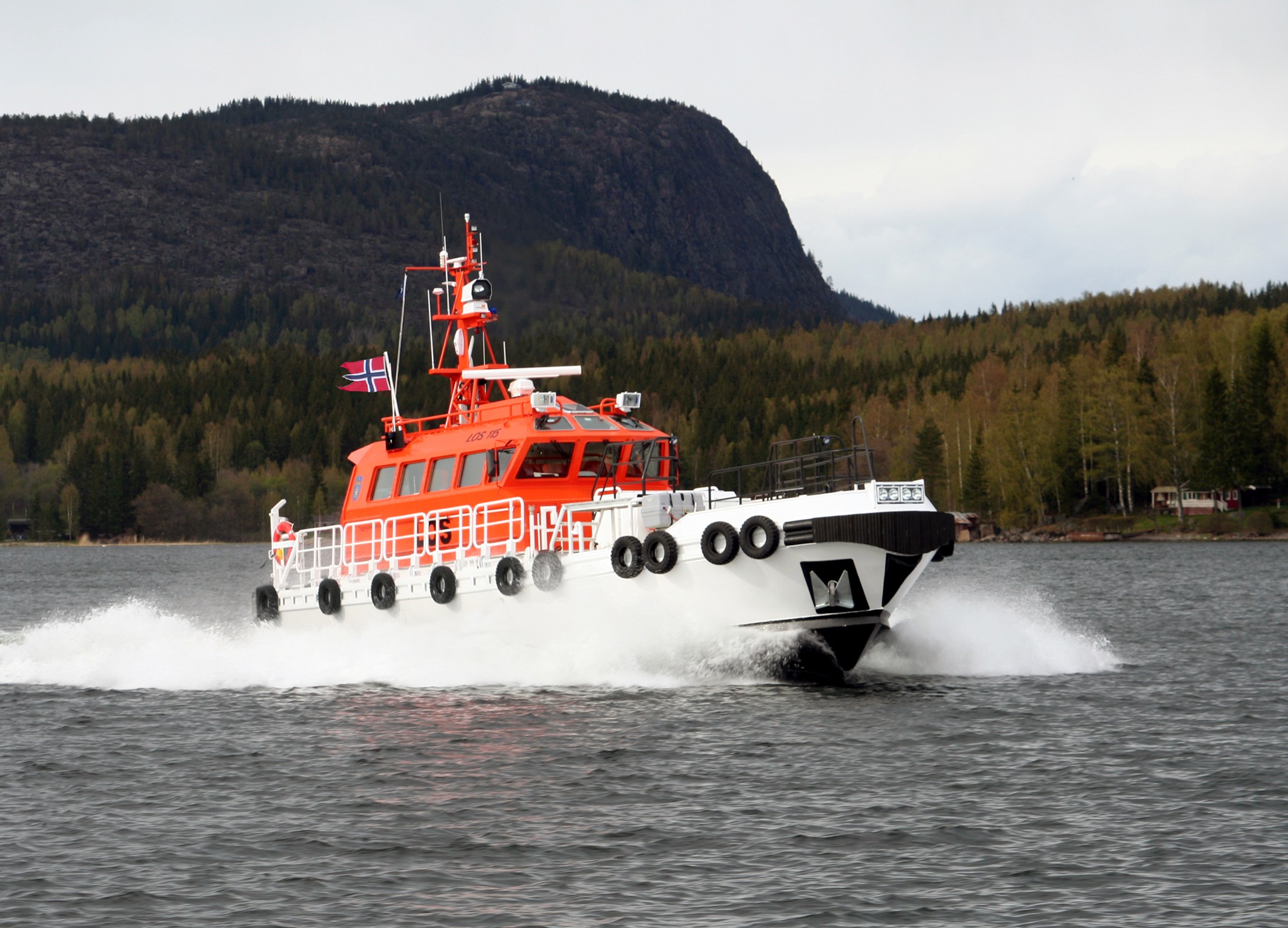 DOCKSTAVARVET has a long standing record as Pilot Boat builders with deliveries to Sweden, England, Turkey and Denmark. LOS 115, yard no 544, is however the first boat build at Docksta for the Norwegian Coastal Administration.
The basic concept was based on the Swedish PILOT 111 type, a 13.5 meter Fast Launch with capacity to navigate in light ice conditions. To accommodate a fuel capacity for 18 hours cruising and a Main Engine with 12000 h MTBO DOCKSTAVARVET had to develop a completely new design with a much larger hull measuring 16.7 x 5.1 meter and with a full load displacement of over 30 tons. The hull design is by JB Seaform while all the structure- and detailed engineering was done in-house. The boat is built in all welded aluminium construction according to DNV / Norwegian Maritime Directorate requirements. The resiliently mounted deckhouse is fitted with a Pilot / Co-Pilot conning arrangement, toilet, pantry and seating for 4 Pilots. The noise level inside is well under 70 db(A) at full speed.
LOS 115 is fitted with a complete, single screw, drive line from PON POWER consisting of a CAT C32 main engine, Mekanord gear, Helseth CPP and a Rexroth / Norcon electronic manoeuvring / monitoring system. With a rating of 820 kW this drive line give a sprint speed of 22 knots and very smooth manoeuvring. The navigation / communication equipment is delivered by PRONAV / JRC and includes a JMA-5310 black-box radar, JHS-182 AIS, NCR-333 Navtex, FF-50 echosounder, CSI Vector PRO GPS compass, Northstar MX500 DGPS, SIMRAD AP-50 autopilot, Maris AEC-6910 chart system and one 19 plus two 17 inch interconnectable flat-screens from Hatteland. Two SAILOR RT- 5022 stations are included in the GMDSS A1 package.
The conditions at the entrance from Barentz Sea calls for heavy-duty fendering and LOS 115 has been fitted with the bolted truck-tyre system used on all DOCKSTA Pilot Boats delivered during the last 15 years. In addition to the normal security equipment, LOS 115 is fitted with a comprehensive heating system to keep decks, boarding platforms and hand rails free from ice in below zero conditions.
LOS 115 is stationed at Kirkenes in Northeastern Norway. The Norwegian Coastal Administration has ordered one more unit of this highly specialized Pilot Craft for the Oslo Fjord Entrance, the only other area in Norway regularly experiencing ice conditions which can affect shipping. With 1100 hp in a 30 ton hull the ALUPILOT 16.5 M type will have a lot of power to cope with real winter conditions.