17 meter Pilot Launch to Norway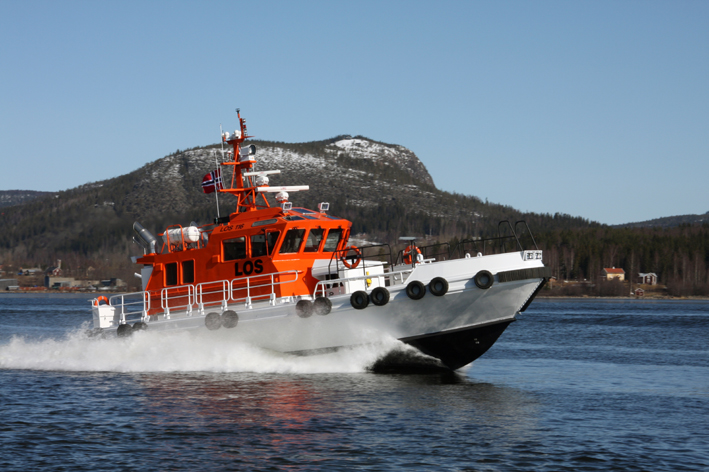 DOCKSTAVARVET has a long standing record as aluminium boat builders specializing along two lines; High Speed Police/Patrol/Interceptor Crafts and Fast Pilot Launches. LOS 116, Yard No 551, is the second pilot boat from Docksta to the Norwegian Coastal Administration and was delivered to the Fedje Pilot Station outside Bergen in May 2008.
LOS 116 is based on an existing design which has been in service in Norway since 1996. The 16.8 x 5.2 meter hull is proven as a reliable heavy-weather boat and has been retained unchanged but the detailed engineering has been upgraded to the highest current standards. The boat is built in all welded aluminium construction according to DNV / Norwegian Maritime Directorate requirements. The resiliently mounted deckhouse is fitted with a Pilot / Co-Pilot conning arrangement, toilet, pantry and seating for up to 8 Pilots. The noise level inside is extremely low, reaching only 61 db (A) at full speed.
LOS 116 is fitted with a twin screw propulsion system from MTU / SWEDMOTOR consisting of 8V2000 main engines, Servogear gears / CPPs and Blue Vision electronic manoeuvring / monitoring systems. With a rating of 2 x 720 kW this system give a service speed of 27 knots and very smooth manoeuvring. The navigation / communication equipment is delivered by PRONAV / JRC and includes JMA-5310 and JMA-5210 black-box radars, JHS-182 AIS, NCR-333 Navtex, FF-50 echosounder, CSI Vector PRO GPS compass, Northstar MX500 DGPS, SIMRAD AP-50 autopilot, Maris AEC-6910 chart system and one 19 plus two 17 inch interconnect able flat-screens from Hatteland. For the Pilots an additional 15 inch screen plus a Pilot-Plug is provided to give access to situation aver ness before boarding. Two SAILOR RT- 5022 stations are included in the GMDSS A1 package.
The westcoast of Norway is an extremely weather-hard area and calls for heavy-duty fendering. LOS 116 has been fitted with the bolted truck-tyre system used on all DOCKSTA Pilot Boats delivered during the last 15 years. The system gives very good protection for the boat and low maintenance cost. In addition to the normal safety equipment, LOS 116 is also fitted with a comprehensive heating system to keep decks, boarding platforms and hand rails free from ice in below zero conditions.
The Norwegian Coastal Administration has an option for five more units of this highly specialized Pilot Craft.