The IC 16 M Success Continues
Three more units delivered to Russia, four in build in Malaysia and two in Mexico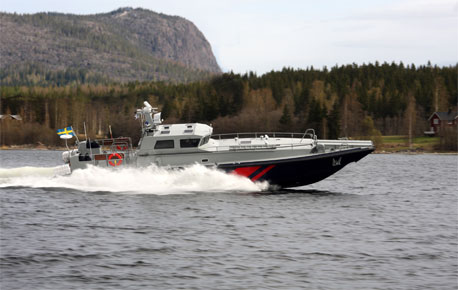 The IC 16 M was developed as a 50 knot Police/Patrol Craft based on the Combat Boat 90 H, a thoroughly proven design of which over 250 units are already in service world wide. The IC 16 M prototype, NB 460 "ENFORCER II", was built for own account in 2002 as a demo and test rig and have since been hired by several Security Organisations as back up for their regular fleet on special occasions calling for extra high speed capacity.
The first production unit was delivered to AG Marine, Moscow, Russia in 2004 and additional three units have just been completed for the same customer with final delivery in July 2008.
The production version is normally fitted with 2 x MAN V12 engines with a medium duty rating of 810 kW driving Rolls-Royce FF-410 waterjets and giving a top speed of +50 knots. The wheelhouse is fitted with seating for a crew of four and the accommodation is laid out with two single, one double cabin and corresponding toilet, pantry and mess facilities.
One pre-series boat was built for Armanda de Mexico in 2005 and since then five more boats have been built at the Mexican Navy Shipyard in Coatzacualcos with complete Materiel Kits and supervision provided from Docksta. Two more units are ordered and will be completed during 2009. The Mexican Navy version is fitted with a bow ramp and seating for 18 soldiers instead of the normal accommodation.
DOCKSTAVARVET´s co-operating partner and Licensee in Malaysia, DNSS Shipbuilders, built four IC 16 M for The Royal Malaysian Customs in 2005 and are currently building four more for The Royal Malaysian Marine Police.
The Polish Border Guard took delivery of four units from Docksta during 2007. The PBG specification called for a top speed of 42 knots which is achieved with 2 x 590 kW SCANIA DI16 engines.
This sums up to a total of 24 units ordered by four different customers. In addition NB 552 and 553 have been built on own account as complete aluminium structures to be able to offer a short lead time for new customers.
NB 555 and 556 are also based on the IC 16 M concept but modified to be fitted out as VIP launches for a Middle East customer with delivery 2009.