The second ALUPILOT 16.5 M delivered from DOCKSTAVARVET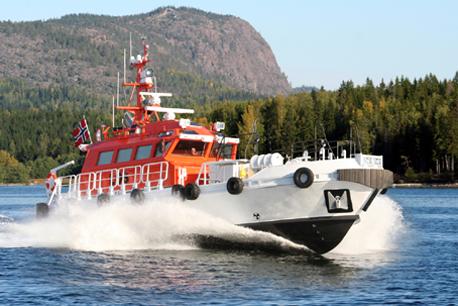 LOS 115 was delivered to the Norwegian Coastal Administration for Kirkenes Pilot Station in North Eastern Norway in May last year. A second unit of this highly specialized Pilot Craft has now been delivered from Docksta. The new craft was christened LOS 117 and will work in the Oslo Fjord Entrance serving the stations of Hvaler, Hvasser and Langesund.
The ALUPILOT 16.5 M is a Fast Launch strengthened for navigation is ice. Main dimensions are 16.7 x 5.1 meter with a full load displacement of over 30 tons. The boat is built in all welded aluminium construction according to DNV / Norwegian Maritime Directorate requirements. The resiliently mounted deckhouse is fitted with a Pilot / Co-Pilot conning arrangement, toilet, pantry and seating for 4 Pilots. The noise level inside is well under 70 db(A) at full speed.
LOS 117 is fitted with a complete, single screw, drive line from PON POWER consisting of a CAT C32 main engine, Mekanord gear, Helseth CPP and a Rexroth / Norcon electronic manoeuvring / monitoring system. With a rating of 820 kW this drive line give a sprint speed of 22 knots and very smooth manoeuvring. The navigation / communication equipment is delivered by PRONAV / JRC and includes a JMA-5310 black-box radar, JHS-182 AIS, NCR-333 Navtex, FF-50 echosounder, CSI Vector PRO GPS compass, Northstar MX500 DGPS, SIMRAD AP-50 autopilot, Maris AEC-6910 chart system and one 19 plus two 17 inch interconnectable flat-screens from Hatteland. Two SAILOR RT- 5022 stations are included in the GMDSS A1 package.
LOS 117 has been fitted with the bolted truck-tyre heavy-duty fender system used on all DOCKSTA Pilot Boats delivered during the last 15 years. In addition to the normal security equipment, LOS 117 is also fitted with a comprehensive heating system to keep decks, boarding platforms and hand rails free from ice in below zero conditions.
In between LOS 115 and 117 Docksta has also delivered a 17 meter twin screw Fast Launch (LOS 116) to the same customer. A second unit of this type (ALUPILOT 17 M) is currently in production for delivery in June 2009 and three more will follow 2009 – 2010.