Sports Utility Craft from DOCKSTAVARVET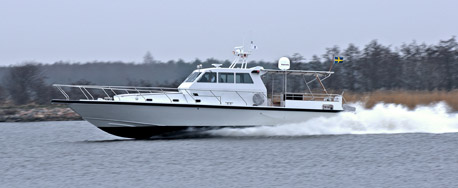 For more than half a decade starting 1905 DOCKSTAVARVET was a prominent builder of wooden yachts and motor boats for the domestic Swedish market. After 1965 production has been focused on commercial / military aluminium crafts, in the last ten years almost exclusively for export. DOCKSTA is now back in the luxury segment with two highly sophisticated High Speed VIP Crafts for a Middle East client.
The SUC 16.5 M design is based on the successful IC 16 M Patrol Boat of which already 27 units are delivered / in build. The structure and all technical installations are to the same commercial standards according to Lloyd's Special Service Crafts Rules for Area G3. The new hull is half a meter longer and slightly wider but with optimized scantlings 500 kg have been shaved off the aluminum weight. The bigger hull and the weight-saving have enabled the use of mixed flow waterjets which are bigger but have better propulsion efficiency at speeds over 50 knots compared with the axial flow units used on all previous Docksta designs. With 2 x 1000 kW MAN V12 engines the new design can achieve a sprint speed of 55 knots. The increased beam has also made it possible to fit a flexibly mounted wheelhouse, a Docksta feature used on all Pilot Boats built since 1978. Together with other sound insulation measures this has brought the noise level in the wheelhouse down to 70 db(A) at 50 knots, figures believed to be unique in the industry! All the electrical and electronic equipment including genset, batteries, switchboards, A/C plants etc are fitted in a separate room beneath the wheelhouse with separate entrance from the aft deck.
The two SUC 16.5 M crafts are fitted-out to the highest Luxury Yacht standards both on deck and below creating a unique combination of a fully professional technical platform with a most sophisticated accommodation; a Sports Utility Craft.
The new design will also be marketed as the IC 16.5 M with a Patrol Craft layout with accommodation for 4 – 6 crew offering a most powerful platform for police / security operations.
Dimensions
| | |
| --- | --- |
| Length, extreme | 18.70 m |
| Length, hull. | 16.50 m |
| Beam, O.A. | 4.32 m |
| Draft | 1.10 m |
| Displacement | 23 tons |
| Machinery | 2 x MAN 1000 kW |
| Propulsion | 2 x Rolls-Royce Waterjets |
| Speed, cruising | 35 knots |
| Speed, sprint | 50+ knots |
| Fuel Capacity | 2,680 liters |