Modified propulsion system reduces fuel consumption with 30 % in 17 meter Pilot Boat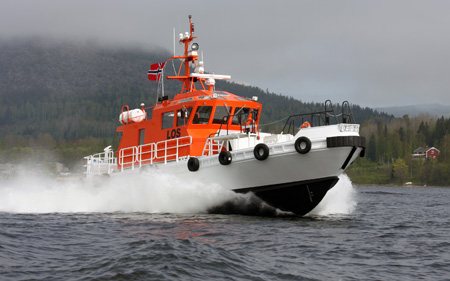 "A re-design of the propulsion system on LOS 118 has resulted in a total weight reduction of 5 tons. The new displacement requires less engine power to perform the contractual speed of 25 knots, which is provided by two VOLVO PENTA D16 engines rated 480 kW (rating 1). This does not only reduce the fuel consumption with 30% but provides a long life power train with 20.000 hours MTBO."
When DOCKSTAVARVET delivered LOS 116, Yard No 551, to the Norwegian Coastal Administration in May 2008 the boat was received with acclaim at the Fedje Pilot Station outside Bergen. The boat full filled all their requirements regarding seakeeping, operational characteristics and comfort with a noise level inside reaching only 61 db (A) at full speed. However, with a full load displacement of 38 tons and oil prices peaking in mid 2008 fuel cost became worrying. LOS 116 is fitted with a quite heavy propulsion system of 2 x 720 kW with CP propellers giving a service speed of 27 knots.
Before executing an option for four more units of the same type the customer ordered a review of the design aiming to reduce fuel consumption. Docksta's design team soon found out that switching to VOLVO-PENTA D16 engines at Rating 2 (2 x 552 kW at 1900 rpm) with Twin Disc Quick Shift gearboxes and FP propellers would reduce weight with 3 tons plus another ton on piping and auxiliary systems. One more ton was shaved off from other equipment bringing the total weight saving to 5 tons. The preliminary calculations indicated that the same speed could be achieved with a reduction in fuel consumption of 25%.
LOS 118, the first boat of the new configuration, has now been delivered to the Ålesund Pilot Station. The trial results were overwhelming as the full load speed came out at 29 knots and has allowed a de-rating of the engines to Rating 1 (2 x 480 kW at 1800 rpm) while still achieving the contract speed of 25 knots with very good margin. At Rating 1 the engines are expected to reach 20.000 hours MTBO with low maintenance costs and a fuel consumption of less than 8.5 l/NM. Compared with LOS 116 this is a reduction of over 30 %.
Although a full 5 tons lighter, LOS 118 is fitted with all the state-of-the art features of the original specification including heated decks, boarding platforms and hand rails, a heavy duty fender system and the DOCKSTA trade mark; a resiliently mounted deckhouse with around 62 db(A) inside at full speed. The boat is fitted with a 10 kVA Perkins/Stamford diesel generator for the 3 x 220 V AC system supporting domestic loads and a SERVEX aircondition/ventilation/defrost system. Each main engine drives a 120 A alternator for the 24 V DC systems which have separate banks for start-, service-, emergency- and radio batteries.
The navigation / communication equipment is delivered by PRONAV / JRC and includes JMA-5310 and JMA-5210 black-box radars, JHS-182 AIS, NCR-333 Navtex, FF-50 echosounder, CSI Vector PRO GPS compass, Northstar MX500 DGPS, SIMRAD AP-50 autopilot, Maris AEC-6910 chart system and one 19 plus two 17 inch interconnectable flat-screens from Hatteland. For the Pilots an additional 15 inch screen plus a Pilot-Plug is provided to give access to situation averness before boarding. Two SAILOR RT- 5022 stations are included in the GMDSS A1 package.
In addition to the standard safety equipment LOS 118 is also fitted with a rescue platform with davit at the transom.
DOCKSTAVARVET is building three more units of this highly specialized Pilot Craft for the Norwegian Coastal Administration with delivery December 2009, May and November 2010.