The ALUPILOT 17 M, a self-rightening Pilot Boat from DOCKSTAVARVET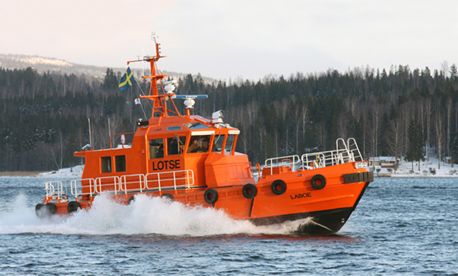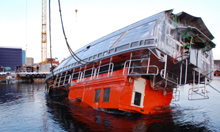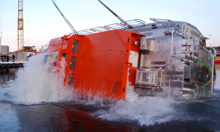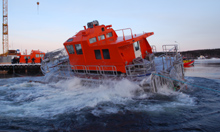 Link to self-rightening movie:
AP 17M self-rightening, stern view
AP17M self-rightening, stem view
In January 2010, the German Government through Fachstelle Maschinenwesen Nord in Rendsburg placed an order for 6 Fast Pilot Launches with DOCKSTAVARVET in Sweden. The boats are to be operated by Lotsenbruederschaft NOK II / Kiel / Luebeck / Flensburg and all boats are to be delivered by December 2011.
The technical specification included a number of weight driving requirements and a contract speed of 20 knots at 90 % of CSR with a maximum output of 750 kW due to manning rules. The boats were to be built in aluminium construction with classification by Germanischer Lloyd including Iceclass E and to be fully self-rightening.
The first boat was launched on the 26th of November and the first workshop trials were performed the following day with representatives of Volvo-Penta and Twin Disc, suppliers of main engines and gear boxes respectively. The self-rightening / capsizing test was successfully done on the 1st of December. Within less than a week from launching DOCKSTAVARVET has been able to verify compliance with all the main positions of a quite demanding specification.
The highly advanced AP 17M will full fill all the demands a customer would have on a Pilot Boat built in the 21st century with state of the art hull design and equipment. It's a Pilot Boat with emphasis on safety, fuel economy and long service life with low maintenance costs.