Pilotboats for Kielpilots, Germany 2010-2011
| | | | |
| --- | --- | --- | --- |
| No | Name | Location | Delivered |
| NB 563 | LABOE | Kiel | 12/2010 |
| NB 564 | HOLTENAU | Kiel | 5/2011 |
| NB 565 | TRAVEMÜNDE | Travemünde | 5/2011 |
| NB 566 | SCHILKSEE | Kiel | 7/2011 |
| NB 567 | BÜLK | Kiel | 10/2011 |
| NB 568 | STEIN | Kiel | 12/2011 |
Background
NB 563, LVB LABOE, was delivered in Kiel 21.12.2010 as the first of 6 Fast Pilot Launches ordered by the German Government through Fachstelle Maschinenwesen Nord in January 2010. The boats will be operated by Lotsbetreibsverein, Aussenstelle Kiel on behalf of Lotsenbrüderschaft Nord-Ostseekanal II / Kiel / Lübeck / Flensburg.
The design is based on a series of similar boats delivered from Docksta to the Norwegian Coastal Administration during 2009 – 2010. In contrast to the Norwegian boats, and in fact to all Pilot Boats previously built in Docksta, the boats for Germany were required to be self-rightening. A successful and approved "turn-around" test was performed shortly after the launching of the first boat.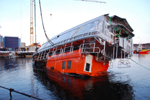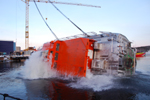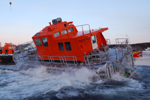 Main dimensions are 16.8 x 5.2 meter and the boats are built in aluminum with classification by Germanischer Lloyd including Ice class E. Two VOLVO-PENTA D16 main engines of 500 hp / 367 kW at 1800 rpm each drives fixed pitch propellers through 80 mm SS shafts and Twin Disc MGX-5145 gearboxes giving a very sturdy propulsion package and long MTBO. Speed at the full load displacement of 33.3 ton and 90 % of CSR is 20 knots giving a fuel consumption of around 7.5 l/NM.
The arrangement is laid out with a raised wheelhouse with round-the-horizon visibility for two crew members and one pilot seated in Recaro chairs. Aft of the wheelhouse at deck level is the saloon with toilet-room, crew mess and seating for 6 pilots. The entire deckhouse is resiliently mounted to ensure a noise level inside of under 65 db(A) at 90 % MCR.
Heating is provided by a 35kW Kabola boiler combined with waste heat from the fresh water circuits of the main engines and with back-up from a 9 kW electro-boiler when shore connected. The system provides ample heating even in winter conditions not only for the interior but also for external hand-rails and the boarding platforms.
The electrical system is based on 24 V DC for essential services supplied from 2 x 140 A generators on the main engines. The 400/230 V AC system is supplied by a 10 kW Fischer-Panda diesel generator or shore connection and serves five big heated windows, the air-condition system, domestic services as well as back-up battery charging for the five battery-banks; 2 x Starter, Service, Emergency and GMDSS. The boat is fitted with ample deck lighting including a remote controlled 1000 W searchlight and four fixed 200 W bowlights from Norselight.

The navigation and communication package is a system-delivery from FURUNO and comprises two 12 kW radars type FAR-2117, one with 6 ½' antenna and 19″ display and one with 4′ antenna and 17″ display, two TECDIS plotter systems, one with a 19″ display and one with a 17″ display, as well as GPS compass, dGPS receiver, autopilot, echo sounder, AIS, wind data and camera systems.
In addition to the full GMDSS A1 installation there are two extra Sailor RT-2048 VHF-DSC sets, one intended to be used exclusively by the pilot in turn to board the next vessel. The pilot work-station also has access to one of the TECDIS systems and is furthermore fitted with a pilot-plug and an internet connection.
The standard of detailed engineering reflects Docksta´s long standing experience in pilot boat construction with emphasis on safety, fuel economy and long service life with low maintenance costs. Despite the very tight schedule the first boat was delivered about 10 days ahead of contract date. Boat no. 2, 3 and 4 are delivered according to contract. The following two boats will be delivered in October and December this year.
Christening in Kiel 10 August 2011 of boat no. 1 to 4 of 6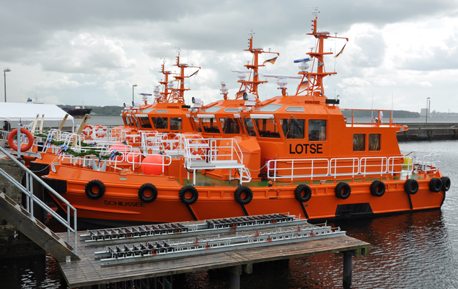 P.V.LABOE, P.V.HOLTENAU, P.V.TRAVEMÜNDE and P.V SCHILKSEE in Kiel 2011-08-10 waiting for christening.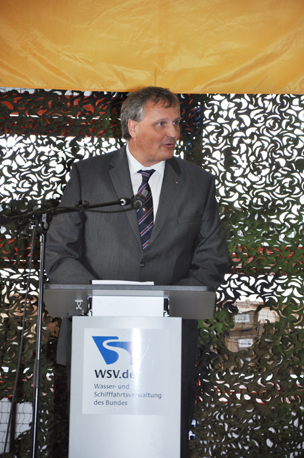 Erste Ältermann Capitän Stefan Borowski of Lotsenbrüderschaft Nord-Ostseekanal II / Kiel / Lübeck / Flensburg greeting guests at the christening ceremony.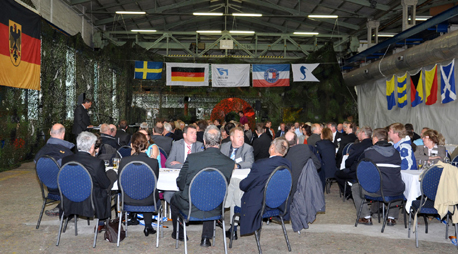 Speeches by various government agencies.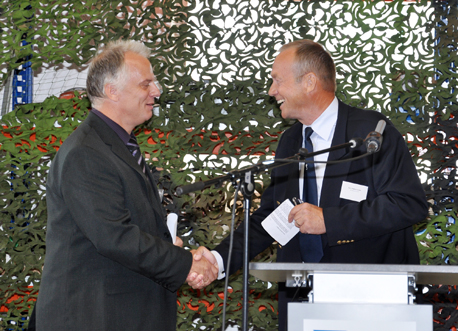 KA Sundin owner of Docksta Shipyard handing over the new boats to
Herr Bielke, Head of Fachstelle Maschinenwesen Nord.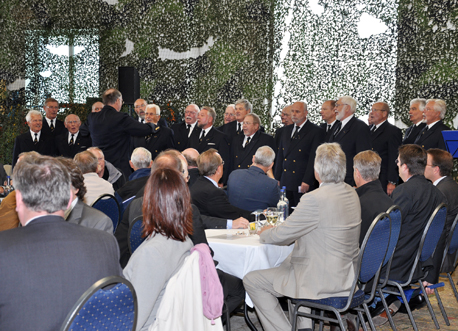 Songs presented by the Pilots own choir, Lotsensangverein "Knurrhahn"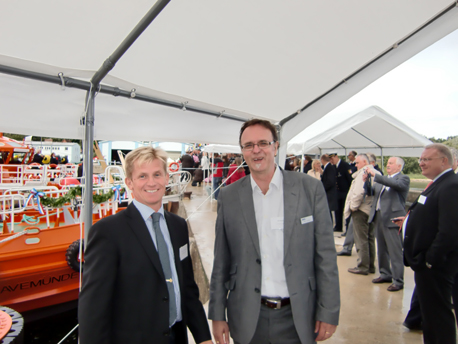 Christer Branzell from Rindö Marine and Pär Johnsson fom Volvo Penta.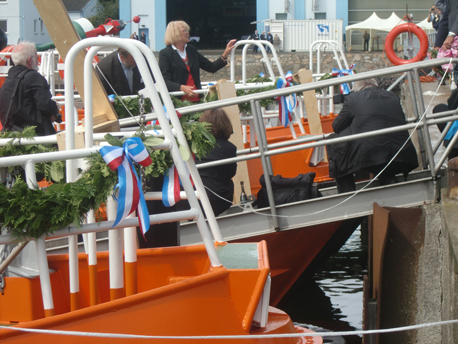 Christening of the boats.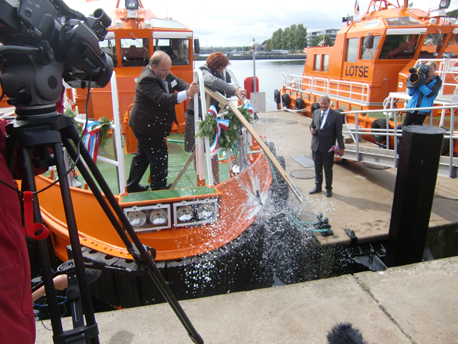 Capitän Struck, head of Lotsbetriebsverein aussenstelle Kiel, helps the godmother with the christening.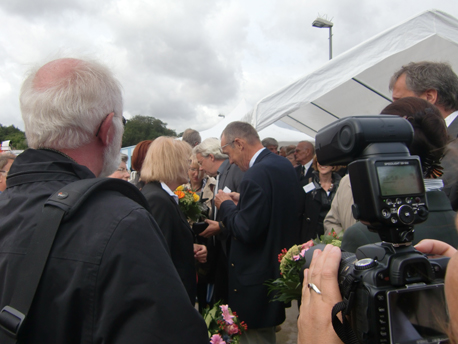 K-A Sundin, Chairman of the board, in the center of attention.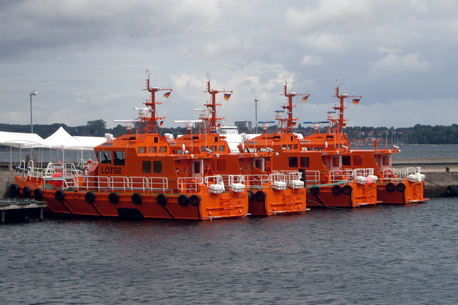 P.V.LABOE, P.V.HOLTENAU, P.V.TRAVEMÜNDE and P.V SCHILKSEE in Kiel 2011-08-10