The new INTERCEPTOR 20 M delivered from DOCKSTAVARVET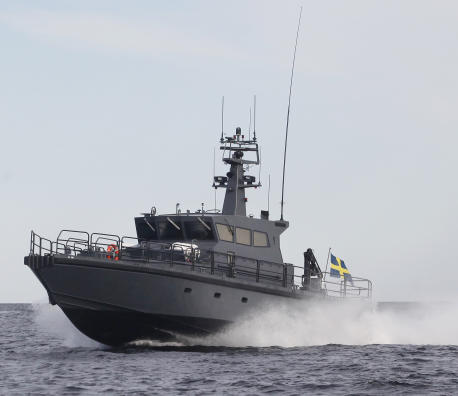 A new 20 meter Police/Patrol/Combat Boat design has now been completed at DOCKSTAVARVET in Sweden. The first of class is configured as a Search, Rescue and Service Vessel for the Norwegian Defense Logistics Organization, NDLO. A second vessel will follow in the second half of 2015.
The design, called IC 20 M, is based on Docksta´s proven IC 16 M / IC 19 M projects but enlarged to meet the quite demanding requirements from NDLO regarding loads, speeds and sea keeping characteristics. The boat is classed by DNV for Service Area R1, built in all welded aluminum construction and fitted with a resiliently mounted wheelhouse structure. Main dimensions are 20 x 4,4 meter with a fully equipped weight of 34 tons and a loading capacity of 8 – 10 tons. The aft deck is designed to take 3 tons and is fitted with a PALFINGER crane type PC 2700 M. The wheelhouse roof is reinforced to carry a Remote Weapon Station. A MANUPLUS polyurethane/polyethylene fender system is fitted along the sheer strake and complemented by a rubber fender around the bow. The deck equipment includes a windlass from MB Hydraulics and VIKING life-rafts and safety equipment.
The propulsion package consists of two 20 liter main engines with waterjets driven through reverse/reduction gearboxes. Ride control is provided by HUMPHFREE interceptors. Auxiliary systems includes a Side-Power bow thruster, one ONAN 17,5 kW dieselgenerator, one equally sized hydraulic shaft generator system as well as a comprehensive heating system to cope with severe Nordic winter conditions including deicing of deck areas. The heating is provided by a 40 kW KABOLA heater and / or from the fresh water circuits of the main engines via heat exchangers. Air condition installation is a Cruiseair / DOMETIC chilled water system dimensioned for ambient temperatures up to +40 °C.
The wheelhouse is fitted with a pilot-copilot arrangement for CO/Navigator and 2O/Helmsman as well as Positions 3 and 4 for additional personnel. All windows are electrically heated and also fitted with a powerful defrost system. The navigation system is configured and supplied by High Speed Small Craft navigation specialists SEACross. The system is configured with 5 x 19" monitors for radar- and plotter-display at pos. 1 – 3. The monitors are interfaced to also display info from echo-sounder, AIS, GPS and camera systems. Additional slave monitors are installed at pos. 4 and in the transport room. The communication suit contains two SAILOR VHF stations as well as internal and external PA systems. The transport room is arranged with SHOCKWAVE and stowing of luggage / equipment.
The electrical system is based on 3 x 220 V AC for the larger consumers and one 24 V DC battery bank each for the port starting-, starboard starting-, service-, radio-, emergency- and GMDSS circuits. The complete installation is built according to strict demands on the onboard Electromagnetic Environment.
"This order from a competent, high profile buyer with a demanding specification will be a very useful reference in future projects for the international market" comments Docksta´s CEO Anders Hellman. "Especially, we are proud to have achieved noise levels well below spec. 61 db(A) in the wheelhouse and 71 in the transport room at a cruising speed of 40 knots is unique in a fast patrol boat of this size. The production version can be offered as a landing craft with a Combat Boat type bow ramp or as a patrol craft with a variety of interior arrangements including crew quarters for up to 6/8 personell. With main engines of 2 x 1400 kW for sprint speed in excess of 50 knots can be achieved" concludes Hellman.
For further info:
Anders Hellman, CEO, phone 0046 613-711 601,
e-mail: ah@dockstavarvet.se