AP 28M Pilot Boats from DOCKSTAVARVET to Germany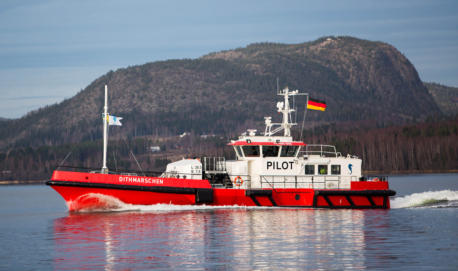 The first of two 28-meter Pilot Boats for the German Generaldirektion fuer Wasserstrassen und Schifffahrt has been delivered from DOCKSTAVARVET in Sweden. The vessel, P/V DITHMARSCHEN was handed over in Brunbuettel on the 15th  December 2017.
The project was worked out by the Owners in co-operation with SVA Tec in Potsdam. All the detailed engineering has then been done by the shipyard with FKAB as subcontractor for class drawings etc. The hull is designed with hard chines, a full length skeg, bulb stem and square transom. Main dimensions are 27,60 x 7,00 meter with a draft of 2,60 meter at the full load displacement of 120 tons.
The steel hulls were built by Riga Shipyard and the aluminium deckhouses by Aluspec. The engine systems are a package delivery from PON Sweden and comprises a CATERPILLAR C32 main engine rated 895 kW at 1800 rpm, REINTJES gearbox and a CAT CPP system. PON has also delivered the control- and alarm systems as well as two CAT C4.4 / 38 kW diesel generators. All engines are fitted with keel-cooling type FERNSTRUM and the complete ship including 100 m2 deck area is heated from the cooling system and a 75 kW KABOLA boiler. The ventilation / air-conditioning system is from Dometic / Marine Air. A hydraulic Sleipner / Side Power bow thruster is fitted with pumps driven from a PTO on the gearbox. The steering gear is of yard design with a large fish tail rudder and with one main hydraulic pump driven from the main engine and a stand by pump with electric drive.
The top speed at full load condition is 14,3 knots. At 50% output the speed is still well over 12 knots giving a fuel consumption of less 10 l/NM. The fuel capacity is 12 m3 and is laid out for one week of operation. A continuous running MAHLE filter system is installed in addition to the standard SEPAR filters. Fire- and bilge pumps are of make DESMI.
The anchor gear is from HEINRICH HARBISCH and the windlass from MB-Hydraulikk. The fender system comprises 400 and 500 mm cylindrical fenders at deck level and 200 x 250 mm D-fenders on the ship´s side. A pilot platform is installed forward of midships 1,4 meter over deck level. The platform is fitted with hydraulic drive and can be pushed out in line with the fender system to both sides. For transfer of pilots to ships with low freeboards there are side niches to port and starboard with the deck level only 0,5 meters over the waterline.
The niche on port side is fitted with a rescue davit and a M.O.R.S system to facilitate the recovery of a person from the sea.
All accommodation is located aft of midships. Below deck there is a crew mess with pantry and restroom. In the deckhouse is arranged a pilot saloon with 9 seats and the wheelhouse with two control stations, one in each side, both fully equipped with complete and redundant navigation- and communication systems. The chairs in the pilot saloon is of BE-GE make and in the wheelhouse from NOR-SAP. The interior panel systems are delivered by ALU-WOOD och NORAC.
The electrical system including main switchboards and sub-systems are designed and installed by the yard´s electrical department. Most of deck- and interior lighting is fitted with LED lights. The navigation lights and alarm panels were delivered by BÖNIG and the remote-controlled searchlight is of type COLORLIGHT CL-25.
The navigation system comprises mainly equipment from JRC and has been delivered by ALPHATRON in Hamburg. The ship is fitted with two radar-, plotter- and riverpilot systems type JMA-610 / Radapilot IN 720 / Alphapilot MF with its accsociated rate-of-turn and rudder indicators as well as one GPS-Compass JRL-31, one DGPS JRL-790 and an AIS SAAB R 5 Solid. In addition, there is also an echo sounder type JFE-320, a weather station from Firma Thies, an intercom system type ZENTINEL CTB-20, a Plettac camera system and three SAILOR VHF- stations.
The vessel is the first to be built in Sweden according to the harmonised EU-Rules for Inland Navigation and is classed by the Swedish Transport Board through DNV-GL for Zone 2. After transfer to Germany under Swedish flag the vessel went through an additional control by ZSUK (Zentrale Schiffsuntersuchungkommission) for the extended operational area "Zone 2 See".
A sistervessel will be delivered in May 2018. The newbuildings will replace three older units and will be operated by Lotsbetriebsverein at Brunsbuettel in the Elbe estuary serving the traffic to and from Hamburg and the Kiel Canal. 30.000 boarding operations are performed a year and each Pilot Vessel will be on duty 24/7 and operate about 4000 hours.