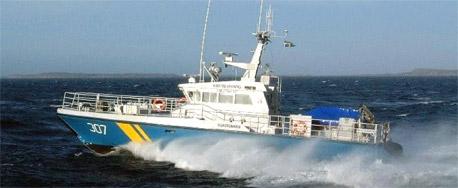 Coast Guard 20 M
Dockstavarvet holds a commission from the Swedish Coast Guard to build the proven and successful 20 meter patrol craft, which was designed by the Swedish Defence Material Administration for the Coast Guard. 11 units are currently in service around Sweden.
The boat is built entirely in welded aluminum to a very high technical standards. The SCG version (No 301 – 311) is fitted with 2 x 735 kW engines and water jet propulsion for a top speed of 34 knots. The LOA is 19.95 m, the beam 4.6 m and the draught is 1.05 m with a displacement of 35 tons. Accommodation is laid out for a crew of four.
Modified versions with higher speed and additional crew facilities are available.