Specification - CB 90 FF

Multipurpose
FENIX is used for a number of tasks from oil-spill clean-ups, ambulance transports and diver support to search and rescue. The fire fighting service covers the numerous islands, small boats and large passenger vessels operating the routes from Stockholm to Helsinki, Tallinn and other major cities.
Performing these tasks requires thorough training in the use of all the equipment on board, and a close collaboration with organizations like the Swedish Coastguard and Marine Police is enormously beneficial.
Working environment and manoeuvring capabilities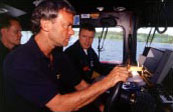 The working environment is comfortable, with good ventilation and negligible engine noise in the wheelhouse. Despite being heavily equipped, the draught is only 90 cm, allowing the boat to go virtually anywhere. The water jet propulsion system makes the boat extremely maneuverable.
Below deck there's a mess room with pantry and a toilet. The wheelhouse is fitted with five seats and a full set of navigation and communication equipment.
A maritime fire-station
The fire pump system has a capacity of 2,000 liters per minute at 10 bars pressure. The system is controlled from the wheelhouse and includes a oam tank and mixer.
Combined foam and / or water are fed to a monitor on the fore deck. Water outlets are also arranged on the aft deck. The equipment room holds an array of manual extinguishers, tools, portable bilge-pumps plus various hoses and nozzles.
Fire pump or diving bell
Through the bow ramp it is very easy to bring on board additional mobile fire fighting equipment for use on islands or other remote locations without fire hydrants.
The fore deck area is also excellent for the handling of oil spill work and heavy diving gear. A hydraulic crane with a lifting capacity of 2.3 ton meters can be fitted.
Technical data
| | |
| --- | --- |
| Length, OA: | 15.40 m |
| Length, WL: | 13.50 m |
| Beam: | 3.80 m |
| Draft: | 0.80 m |
| Displacement, light: | 17.6 tons |
| Displacement, loaded: | 20.5 tons |
| Speed, cruising: | 30 knots |
| Speed, sprint: | 38 knots |
| Cargo capacity: | 3.0 tons |
| Fuel capacity: | 1500 liters |
| Range: | 220 NM |