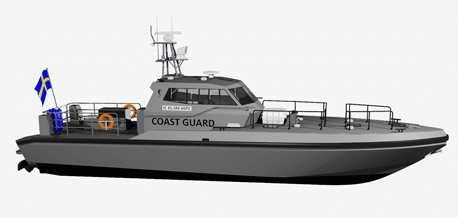 Interceptor Craft 16.5 M
The IC 16.5 M design is based on the sucessful IC 16 M Patrol Boat.
The sound insulated wheelhouse midships serves as a good working environment for the crew and the visibility is excellent around the horizon. Accommodation is arranged for a crew of four to six with two single cabins, one two / four man cabin, pantry, mess-room and toilet.
The new IC 16.5 M, with its extreme speed resources and maneuverability, makes it a most powerful platform for police / security operations.
With a speed capability of + 50 knots it's a truly High Speed Craft, but it is not a racing machine. It retains the ruggedness and reliability that are the trademarks of all Dockstavarvet designs.