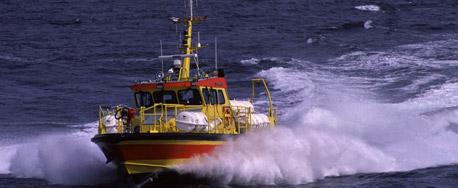 Rescue Vessels
Search and Rescue (SAR) is probably one of the eldest missions at sea and, depending on country, has been operated under different authorities since the 19th century.
Minimizing the loss of life, injury, property damage or loss by rendering aid to persons in distress and property in the maritime environment has always been a priority. But today there is also a need at offshore installations and around airports close to water.
Over the last years there has been shift from rather slow big vessels also to smaller and much faster craft. Dockstavarvet has a number of different craft adapted to rescue at sea. A number of the CB 90 H have been modified and are operated by the Swedish Lifeboat Institution and pilot boats have always been an important asset to the combined SAR organization.
Airport Rescue Vessels
Airports around the globe are now preparing to receive the new big airplanes carrying over 600 passengers and from experience there are two parameters that are crucial to a successful in a rescue mission; time and power. Translated into boat parameters, it will mean a rescue craft with high speed and at the same time capable of carrying inflatable life rafts for at least 600 persons.
Dockstavarvet new Airport Rescue Craft fulfils all these needs: it is highly accessible, speedy, and easy to operate and maneuverability is excellent. Not only that, it can carry inflatable life rafts for 650 persons in quick-release mounts. Furthermore, the Airport Rescue Craft has a sophisticated navigation system and a comprehensive communication system, assets needed for effective cooperation with other rescue units.
The water jet propulsion system makes it possible to come to a complete stop, rewind, maintain position on the spot and accelerate quickly is a clear bonus compared with propellers. All of these parameters are highly useful when an incident occurs and there are people in the water.